Program Description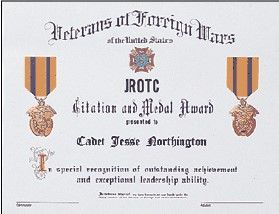 Each year, Post 12002 recognizes the top Cadet from each of the Junior ROTC programs in the cities of Roswell, Alpharetta, Johns Creek and Milton. The Instructors in each program select an outstanding Cadet who is in the last two years of his or her program, is actively engaged in the JROTC program and possesses individual characteristics contributing to leadership.
In order to be considered, the Cadet must have :
A positive attitude toward their JROTC program

Outstanding military bearing and conduct

Strong, positive personal attributes


Demonstrated Patriotism and promotion of Americanism

Demonstrated Leadership Potential

An average grade of "B" or better in their JROTC program

An average grade of "C" or better in all other subjects

Participation in student activities

No prior award

This award consists of a Bronze Medal and Ribbon, and a Certificate.
Traditionally, the presentation is done by a VFW Post 12002 Officer
at the JROTC program's annual awards ceremony.
For a summary of the Junior and Senior ROTC Award Programs,
a full description of the Awards, and a complete list of the
Requirements for Eligibility, click here.
For more information, or to schedule an awards presentation, contact ...
Jim Davis 770-235-4858 davis1824@comcast.net
... and provide the School Name, Cadet's Name, Date and Time of the award ceremony, and contact person within the JROTC program.